Patron's Message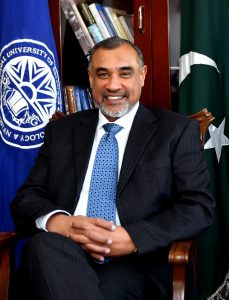 NUST Institute of Policy Studies (NIPS) as integral think tank of NUST utilising the high policy formulation and advisory potential of the university. This marks a land mark addition to NUST, since it is the leading institution of higher learning in Pakistan and houses some of the best intellectual capital. In addition, its linkage both within and outside Pakistan affords it the ability to refine the thought processes and proffer valuable analysis at the right forums.
The University is a key player in the process of nation-building through human resource development, advancement of science and technology, promotion of entrepreneurship and innovation, and national policymaking and formulation to facilitate the creation of knowledge economy. NIPS will replace the erstwhile Global Think Tank Network (GTTN), and will utilise the high policy formulation and advisory potential of the university, in line with the best practices. The associational network of NIPS is broad-based, representing domestic and global multi-sectoral academic and professional expertise.
The think tank plans to provide original, scientific, well-articulated, and multidimensional policy research, analysis, and advocacy in the key areas to include governance; socioeconomic development; international relations, geopolitics and security; China-Pakistan Economic Corridor (CPEC); water, energy and environment; knowledge economy and innovation, utilising the diverse knowledge capabilities and resources of the university-based experts, researchers, and scholars together with the expertise at large. Leveraging diversity of opinion, thinking, and approach, NIPS is envisioned to capture the general direction of multi-tiered change in the overall evolution of state, market, and society.
With international footprint, NIPS, as per the tradition of NUST, would aspire to be a leading think tank which is acclaimed nationally as well as internationally, while enabling it to harness brilliance potential residing within NUST.
I wish NIPS the very best and pray for its success in the coming days".